( 1-Apr-13: I found this draft from July. Not sure why I never published it.)
I don't know what it is but right now I just have this thing for plaids. I ran across this darling fabric on etsy and saved it to my favorites. When I decided to make a dress for our church picnic I immediately knew I wanted this fabric. It's a blend of 100% linen and cotton. I went thru my pattern stash, decided on
Vogue 8380
and ordered this lovely linen/silk blend fabric from
Fabrics and Trimmings
on Etsy.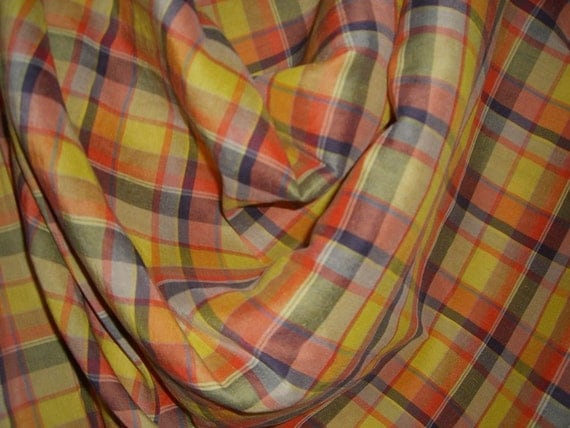 As luck would have it, I was being a little over-adventurous that week. The husband and I were attending a retirement party on Friday night and I was hoping to complete another dress I'd been working on to wear to the party. That didn't go so well as I had mucho fitting issues - but I'll tell you about that later.
At any rate, I had the dress all cut out but I didn't get a chance to start sewing until 9:00 Saturday night. The picnic was Sunday. Really Monica?!
I started out pretty well with the bodice. I pretty much wasn't following the pattern instructions because I decided to line the bodice rather than use facings for the neckline and arm holes. That's all fine and well but I should have read the instructions through just once before I began sewing. But since I didn't *chuckle* I put a few miles on my seam ripper.
I was trying to be a good little sewer since this fabric was just so fabulous to me and a bit on the expensive side. One thing I've been trying to do better is to work on my seam finishing techniques. I'm not a fast sewer and it always baffles me how long I spend constructing the bodice of a garment. Around about midnight I started taking short cuts. As I'm drafting this post, I've not yet decided if I will show you the inside of the dress. LOL!
I stayed up half the night working on the dress and stopped at the point where it was time to install the zipper and hem the dress. I've learned the hard way not to continue sewing when I'm tired. So I went to bed and got up bright and early the next morning and made my baked beans for the picnic since I'd neglected to do that the previous day. THEN I went and installed the zipper and hemmed my dress. I gave it a final pressing around 9:30 AM just in time to leave for church. The picnic was immediately after.